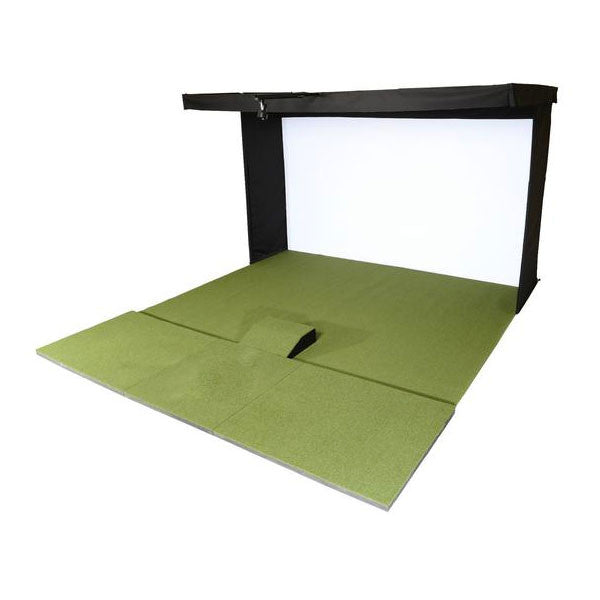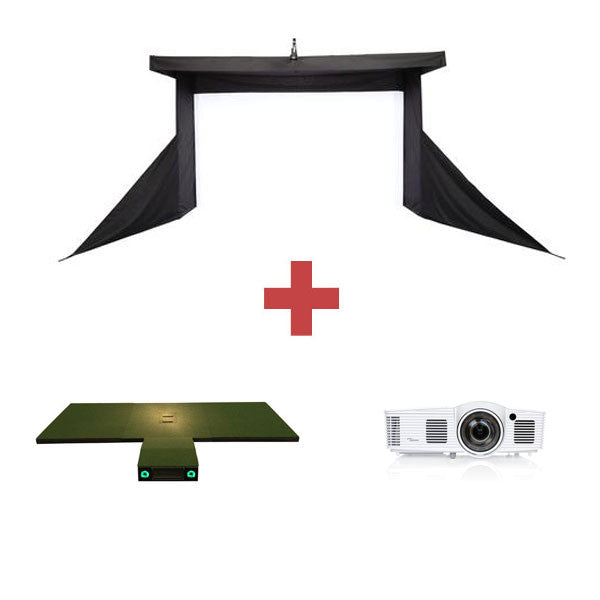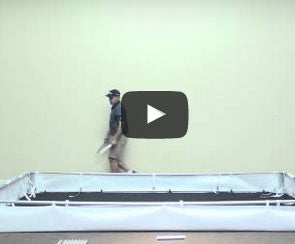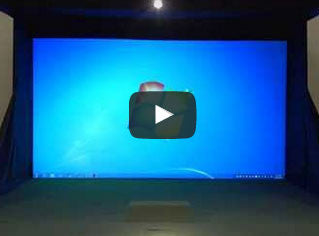 GS13 Studio (USA and Canada Only)
Shipping and tax calculated at checkout.
---
Fulfilled and supported by The Golf Simulator Guys
This portable golf studio is designed to work with the golf launch monitors on the market such as Trackman, Foresight, FlightScope and Skytrak.  It features a HD impact screen and our Platform Mat system.
Features:
TOOL FREE ASSEMBLY AND COMPLETELY PORTABLE
Includes 1080 HD Ultra Short Throw Projector
Includes Projector Ramp (used to tilt your projector so the image reaches the floor)
Includes Projector box that removes the need to hard wire a projector
Includes Turf between mat and screen
Includes Side panel extensions
Includes Long HDMI
Includes Long Surge Protector/Extension cord
Includes HD Impact Screen7'6"(h)x13'4"'(w)x4'(d)
Includes Ulti Mat 2 Full Mat System (no cutout) 4'x13'4"x2" (3 piece lock key mat system)
Uses the Universal golf studio concept (you can easily switch between simulators by changing the center section of the mat)  
Aluminum push button frame system
Fabric attaches to the aluminum frame with straps and d-rings and velcro
Studio can be used to watch TV, Movies and Gaming.
Studio can be used outdoors as an outdoor movie theater or even to watch YouTube videos at Birthday Parties.
Extended Canopy and light bar
Footprint Needed:
13'6"'w)x16'6"(d)x9'(h) for limited image size
13'6"(w)x18'6"(d)x9'(h) for full image size
NOTE: Computer System, Golf Simulator hardware and software are NOT included.
Please note that 9' ceilings are a guideline.  Some players may require taller ceilings for their swing.  It is the buyers responsibility to determine adequate swing clearance for the room the simulator is installed in.
Youtube Product Info Channel: https://www.youtube.com/user/bionicboogerboy